As we manage a lot of DJs who live and breathe performance equipment, we thought we should sit down and put together an ultimate list of top-rated and highly respected DJ equipment currently available to buy. The Best DJ Equipment list, ever, per Storm DJs.
The digital DJ equipment is generally split into 2 camps based upon chosen software, which is then driven by specific DJ controllers. Therefore we have split out our best digital DJ equipment list into Serato / Rekordbox, and Native Instruments Traktor Pro. Both of these solutions require the use of a separate laptop (we always recommend a Macbook for stability) on which to install the DJ software.
The best stand-alone digital solutions, and non-digital or analogue more traditional DJ equipment represents the 3rd section.
We have split each section into high-end and budget.
1. The Best Controllers for Serato / Rekordbox
High End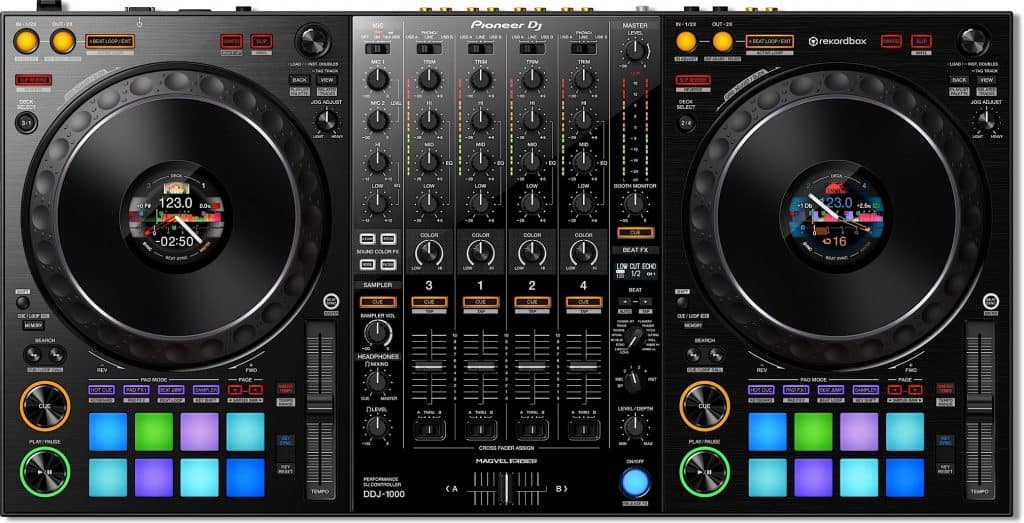 Pioneer's ever growing list of "DDJ" (digital DJ) controllers were all based upon the standard CDJ and DJM layout with a few tweaks here and there. The DDJ-1000 is a controller which has been built to match this layout in terms of size, structure, and form.  Truly a beast of a controller, it wins the award for size, sexiness, and functions, and would be right at home in a top-end DJ booth (assuming every guest DJ had their own laptop with Rekordbox or Serato on it!)
Budget
Pioneer's SX3 is the younger sibling of the monster 1000. Most of the same functions are there, however the size, weight, and structure of the controller are all smaller. This could easily work in your favour if you are after a more portable version and want to save a bit of cash.
---
2. The Best Controllers for Traktor
High End
The Trakor Kontrol S8 is the ultimate solid, reliable, and beautiful DJ controller for Traktor. It wins hands down as the best dedicated flawless controller, but it must be noted that the lack of jogwheels can be a little off-putting to more traditional DJs. If you have cash to burn and want to simply add some jogwheels, add on a couple of PLX-1000s together with Traktor Scratch encoded vinyl so the set-up looks like the below:
Budget
The best budget controller for Traktor is actually a DIY combination of small controller elements, which allows you to mix and match the parts you prefer. Again, with dedicated Native Instruments solutions, this guarantees the most solid compatibility. If you are after jogwheels then the Kontrol S4 is the best alternative and comes with 4 channels, but it is not as customisable in terms of a personal solution.
Insider info: Storm DJs' boss Adam still swears by the original Pioneer DDJ-T1 which was Pioneer's first and best dedicated Traktor controller.
---
3. The Best stand-alone systems
High End (digital)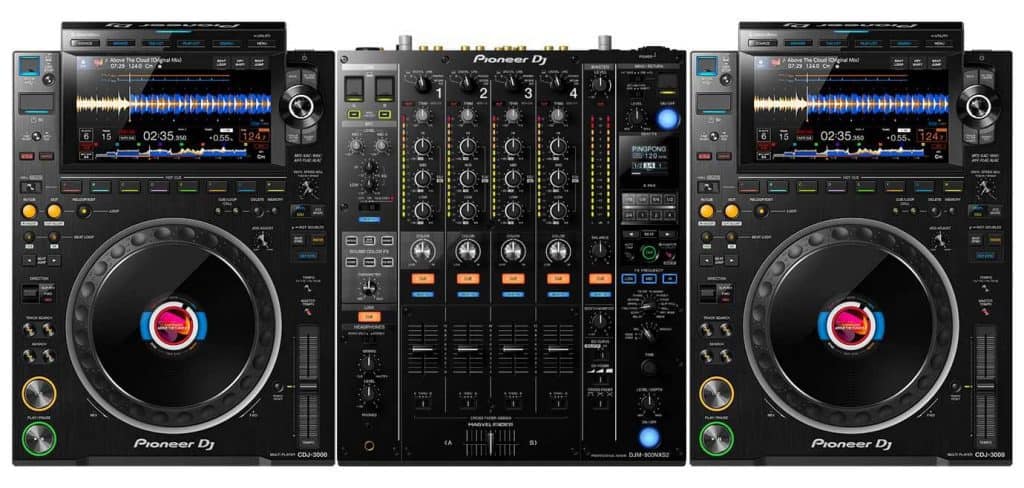 Pioneer's CDJs, (or 'DJ Players' as Pioneer now likes to call them), together with DJMs have been the standard powerhouse equipment found in clubs globally. This pairing has been a match made in heaven since the beginning of the general DJ switchover from vinyl to CDs. The CDJ-3000 are the latest and greatest players, but they don't come cheap – click through for the latest pricing.
This set-up can now also easily be used to control Traktor or Serato with a USB cable from your laptop.
**Look out for our monthly giveaway where we will be giving this setup away!**
High End (analogue / vinyl)
Again on a Pioneer-slant, this time for the traditionalists who love DJing with true vinyl (or even those who like dealing with old-school platters for use as jogwheels for their Traktor or Serato setup), the PLX-1000s are basically the same as the former industry gold-standard Technics 1210s. Together with a solid mixer such as the slightly older DJM-850, this pairing is just what the retro-doctor ordered.
*If you're looking for turntables, but don't want to break the bank, the best budget DJ turntables remain the Audio-Technica ATLP120USB – which also feature a useful USB out.
Budget
Last of all, if you want an awesome all-in-one solution with no need for a laptop (saving you £1-£2k), the XDJ-RX2 is a great system. It is based on the traditional CDJs/DJM set-up, and the interface uses integrated Rekordbox software. The fact that this only has 2 channels might put some DJs off, though.
---
We hope you found our summary of the best DJ equipment to be useful. We will try to keep it up to date as new and improved models come onto the scene.
**Look out for our new monthly DJ equipment giveaway 2021 where we will be giving away a whole load of recommended bundles!**