This is your chance to win a Pioneer DDJ-REV7 and more: the Revolution DJ Setup in our exclusive DJ competition.
Find out more about this incredible prize bundle below:
1 x Pioneer DDJ-REV7 Controller
Brand-new motorised, VINYLIZED JOG: Feel like you're playing with records
At the heart of each deck on the DDJ-REV7 is the new 7-inch motorised jog wheel which features the same rotational stability as a 12-inch turntable and is built to feel like you're playing with real records.
VINYLIZED JOG: Customise the feeling
The acrylic top plate is finished with a vinyl-like texture for effortless finger grip, and you can choose between low and high torque settings and use the two slip sheets included inside each deck to find your preferred amount of friction. Switch between a rotation speed of 33⅓ or 45rpm whenever you like and use the Stop Time setting to adjust how long it takes for the music to end when you press pause.
On Jog Display: Keep an eye on essential information
In the center of each jog wheel, a 3.5-inch LCD keeps important information at your fingertips so there's far less need to switch your gaze between the decks and your laptop. Thanks to an omnidirectional viewing angle, you can see what's being displayed from any angle, and you can turn off the digital marker that indicates the playback position whenever you want. You can also mark each jog wheel with the included stickers if you prefer this method to the digital marker.
Waveform mode
See the overall waveform of the track on that deck, plus the detailed waveforms of the tracks on both decks side-by-side to help you make quick, intuitive adjustments. You'll also have an eye on the BPM, playback speed (tempo), remaining or elapsed time, digital marker for the playback point (which you can turn off), and the number of beats in the loop when one is playing.
Virtual Deck mode
View the virtual deck of Serato DJ Pro and the number of beats to the next Hot Cue point.
Artwork display
Display the artwork for the track that's playing.
DJ Logo display
Display your own logo or favorite image on each deck after using the Image Transfer Tool for PC/Mac to load it onto the DDJ-REV7.
Instant Scratch: Rapidly fire samples with dedicated buttons
The DDJ-REV7 has 4 original scratch samples that you can trigger by pressing the corresponding hardware buttons. Because the sounds are built in, you can fire them at any time – even if the controller isn't connected to your laptop. If you want to use your own samples in your set, you can instantly load scratch samples from 4 banks that you've assigned in Serato DJ Pro with the Scratch Bank feature.
MAGVEL FADER PRO: Scratch freely
Scratch with style and confidence when you use the MAGVEL FADER PRO. As well as being highly robust, it's customizable with various settings to help you find the feel that's right for you.
22 built-in Beat FX including 3 new additions: Dynamically change the sound
Add drama to your track transitions with the 3 brand-new Beat FX. In total there are 22 Beat FX which you can trigger with the dedicated controls (New Beat FX: Duck Down, Fill Out and Helix Out).

You can also pull the effects levers down and hold them to apply effects from Serato DJ Pro in short bursts, or push them up to lock effects on and free up your hands for scratching or track browsing. 22 built-in Beat FX including 3 new additions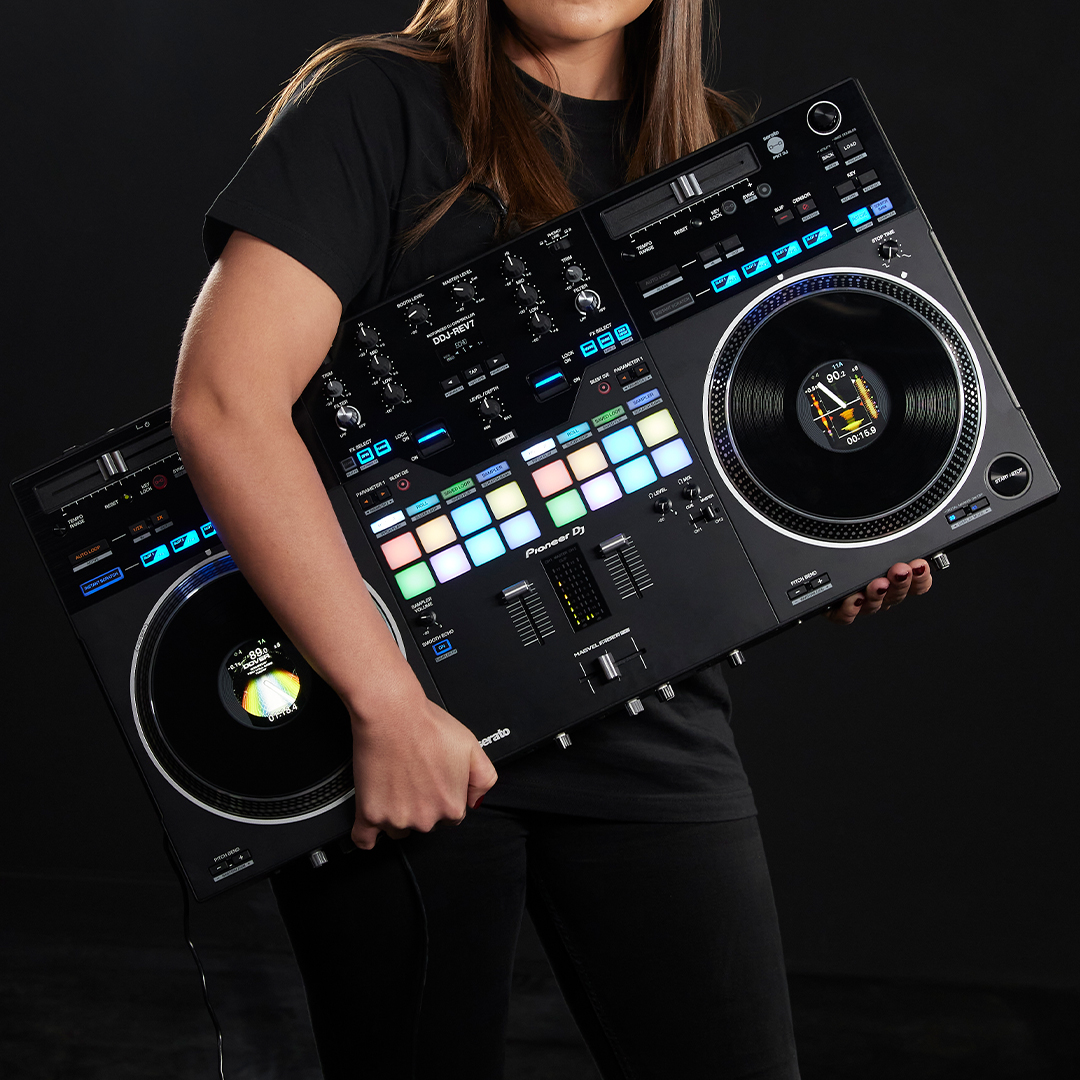 Portable, sophisticated design: Take your performances anywhere
The DDJ-REV7 is solid and robust, yet still lightweight enough to grab by the handles on the chassis and carry to your next gig. Contrasting matte and hairline finishing in different sections of the aluminium top plate create distinction between the deck and mixer sections, so the layout looks like a traditional 2 x turntable + mixer setup, while the On Jog Displays mimic the label in the centre of a vinyl record.
It's a beast. Equipped with the blazing-fast M1 Pro chip, for work or play, Apple's 2021 MacBook Pro promises groundbreaking performance and amazing battery life. The 120Hz ProMotion HDR display makes everything feel super fluid and responsive on-screen, while the six-speaker sound system fills the room with its punchy bass. All this, along with versatile connectivity options and more pixels than ever before. "Pro" doesn't even come close to grasping how much power this notebook puts in your hands.
Processor
Apple Silicon
Memory (RAM)
16GB
Storage capacity
512GB
The 8″ KRK ROKIT RP8 G4 (Generation 4) bi-amp professional monitor takes music and sound creativity to a whole new industry-level.DSP-driven Graphic EQ with 25 settings help condition your acoustic environment while offering new levels of versatility in a studio monitor. Matching drivers made with Kevlar® ensures the same sonic integrity across all frequencies. A new scientifically designed speaker enclosure and front-firing port offer exceptional low-end extension and accuracy, punch and flexible room-positioning. The new powerful, yet efficient custom Class D power amplifier drives the speakers evenly and more efficiently at reduced operating temperatures and improves audio integrity.